Asylum Seekers Centre's Emergency Relief


turning people's lives around.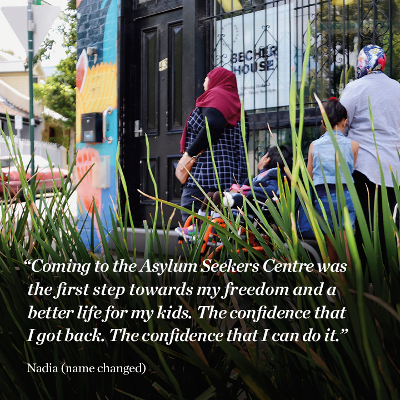 Emergency Relief supports people seeking asylum address urgent needs. On a daily basis people arrive who are homeless and without other support. They are often ineligible for Medicare and may have debilitating physical or mental health conditions. ASC's Emergency Relief program provides accommodation, financial assistance, material aid, food, healthcare and legal advice. With your support people can and do rebuild their lives and make a lasting contribution to society.

ASC'S Emergency Relief response is activated within 24 hours.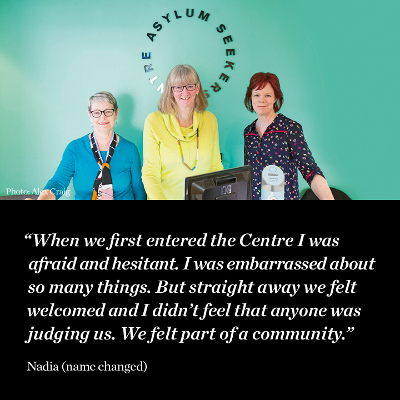 INTAKE
When people seeking asylum first arrive, the ASC Intake team assess the support they require, respectful of their cultural or religious background, using interpreters where required. The dignity of the people we support is paramount, and we identify and prioritise the support needed by listening and engaging with each individual. The comprehensive range of services available within the Centre enables us to provide a timely and coordinated response.
ACCOMMODATION
People who arrive with no money or social support are at risk of homelessness. ASC's Emergency Relief program enables the Casework team to respond quickly and provide individuals and families, free of charge, a safe place to live while they find their feet in a new city.
"When we can accommodate people and provide financial support it really makes a difference to people finding their own independence over time."
Robin Webb, Caseworker, ASC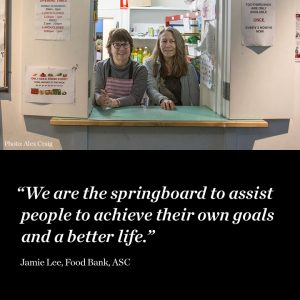 FOOD BANK
Food is one of the most important basic human requirements. Providing emergency and weekly non-perishable food parcels, and daily hot lunches, ensures that women, men and children in financial hardship do not go hungry. ASC also offers basic grocery items for families with infant children, provisions of milk formula, age appropriate food and nappies.
500 BAGS OF GROCERIES DISTRIBUTED EVERY WEEK

FINANCIAL ASSISTANCE & MATERIAL AID
For people who are destitute, ASC provides financial assistance for basic living costs so they can sustain themselves in the community. Costs for vital medications are also met, particularly for the management and treatment of chronic illnesses. Individuals and families who are accommodated in emergency hostels are provided with an essentials pack, which includes linen, towels, toiletries, and a kitchen set. ASC covers all the basics so people can start the process of rebuilding their lives.
"I was destitute … I remember the first time when I came (to ASC) I felt sad because this was not who I am … but ASC made it easy to ask for financial assistance."
Nadia (name changed)
HEALTHCARE
For people needing healthcare, ASC medical staff respond with initial health assessments and follow-up GP appointments in the Health Clinic. Many people have been without vital medications for chronic health conditions that have led to further complications requiring urgent treatment. Our Health Clinic team are treating more people presenting with complex physical and mental health conditions. These people do not have access to Medicare.
ASC'S HEALTH CLINIC TREATS 200 PEOPLE PER MONTH
LEGAL ADVICE
Our partnership with the Refugee Advice & Casework Service means that legal professionals at ASC can advise people seeking asylum on their visa status. Whether applying for Bridging visas or lodging applications for protection, people are provided with qualified advice and assistance to complete complex forms – the essential first step on their journey to independence in their new country.
"Imagine navigating a 65 page application when you can't read English."
Katie Spiroski, Intake, ASC