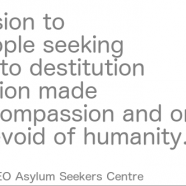 ASC condemns the position taken by the Australian Government as reported in yesterday's press. The decision to force people seeking asylum into destitution is a decision made without compassion and one that is devoid of humanity. ASC will be joining their colleagues in the sector and will be seeking the support of the wider community to ensure that people will be supported whilst they remain in Australia (Frances Rush, CEO Asylum Seekers Centre).
Sydney Morning Herald August 27, 2017

Please donate now to help us to support people seeking asylum in NSW.