Help someone seeking asylum by donating your second hand laptops, tablets and smartphones. Your donation will assist a person seeking asylum to study, look for work and contact family overseas. It will also help them to deal with government agencies and organisations.
To donate please complete the laptop donation program form below.
All donated laptops (from individuals or ex-fleet) are refurbished at our centre. Any existing files are removed and a new operating system is installed before distribution. We generally don't need printers, desktops or other equipment.
In addition to the laptop donation program, the Asylum Seekers Centre provides access to Wi-Fi, IT support and coaching. ACCAN (the Australian Communications Consumer Action Network) runs workshops at the centre giving much needed advice about choosing phone and internet plans. Many of our clients have no access at home to a computer or laptop.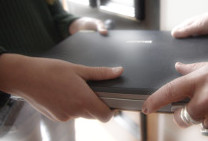 Laptop donation program in action:

"Recently as I was rushing around at the Centre, a young man asked for help with a printing problem. As I focused on the details of the printing job, I asked the young man what he needed the printing for.

His answer shocked me and shifted my focus – there had been a massacre in his village back home. He explained that this was the second massacre in less than a year and he needed to provide evidence of why it was not safe to return to the village. He produced a huge pile of documents from his backpack. I sat with this young man and explained various options for using printing, PDF files and emails.

He seemed almost embarrassed to tell me he had no access to the internet or a computer at home. I put him in touch with our Social Support service so he could be allocated a donated laptop."

Patrick – System Administrator