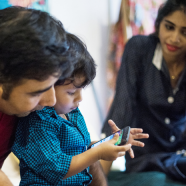 Last week it was announced that Queensland MP Karen Andrews would replace Peter Dutton as Home Affairs Minister.
We asked people seeking asylum the question: "If you had the chance to sit down with the new Home Affairs Minister, what would you share with her?"
This is how people responded:
East African woman Jade arrived in Australia by herself and applied for asylum in February 2018.
"I don't know how long it will take until my case is heard. Being in limbo – I feel like my family is broken because of it.
I can't travel. My children can't travel to see me because I don't have a permanent visa and I can't sponsor them.
I left them when they were 7 and 10, now they are 10 and 13.
It would be good if the government could allow travel on the bridging visa, or provide an estimate on how long the visa process will take.
The wait is indefinite. I'm living day by day."
North African woman Ghaaliya lives in Sydney with her partner and four kids and has been waiting for an outcome on her asylum application for three years.
"I think asylum seekers need better access to education and health.
We have problems with education – each year we are asked to pay a fee for each child to attend public school. Asylum seekers on a low income should be able to access free education, like permanent residents.
I'm not interested in getting Centrelink or government support, but it's not easy to find a job when you're on a temporary visa. I planned to go to university but I'm not able to do it because I need to pay international fees. It puts your dreams on hold.
Asylum seekers should have more support in health too. One of my daughters has hearing loss. The NDIS would be a good support for her, but we are not eligible for NDIS because we're on temporary visas.
Another daughter has a broken tooth and she's bullied at school. She doesn't like to smile at school because it shows her teeth.
Asylum seekers are active, they work hard and participate in the development of the economy and pay taxes. Many have a high level of education. Asylum seekers are not always marginal people."
Nabila is a Middle Eastern woman who applied for asylum in Sydney over a year ago.
"I still haven't got an interview for my asylum application. It's hard for me to know if I can stay or not.
I'm not safe if I go back, but I don't know if I can stay here. If I get rejected, I don't know where I'm going to end up.
My boyfriend is overseas and it's really hard to know when I'm going to meet him again.
I'm working as a volunteer. I've been applying for jobs, and I got two really good offers. But once they found out I was on a temporary visa, they said they couldn't afford to hire me because I wasn't eligible for JobKeeper.
If I didn't have Asylum Seekers Centre support, I don't think I would have a place to stay."