Lunches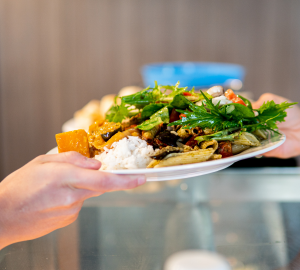 Tuesday and Thursday at 12.30 pm you are welcome to join us for a healthy free lunch. Volunteers cook a delicious range of foods, with both meat and vegetarian options.
Our lunches have a welcoming environment and give you the chance to meet other people and make new friends.
At other times of the day, the kitchen is stocked with tea, coffee and breakfast cereals that you may help yourselves to, and you are welcome to take home anything left in our communal fridge.
Foodbank
To help you maintain a healthy diet, the centre has a free foodbank that can provide you with groceries and toiletries. Contact the centre on (02) 9078 1900 if you would like to arrange a foodbank delivery.
Material support
We can provide materials that help you access our services, such as swimwear or sportswear for our recreation programme, or pots and crockery to eat what you shop for at our food store.
We do not generally provide clothes or children's toys as we lack the space to store them. However, you can obtain these from your local Salvation Army or St Vincent de Paul shops who are committed to assisting asylum seekers.