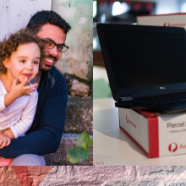 Last updated 3 December 2021
Important
ASC SERVICES AND SUPPORT
Call the Asylum Seekers Centre on 9078 1900 to find out how we can assist you while keeping our community safe.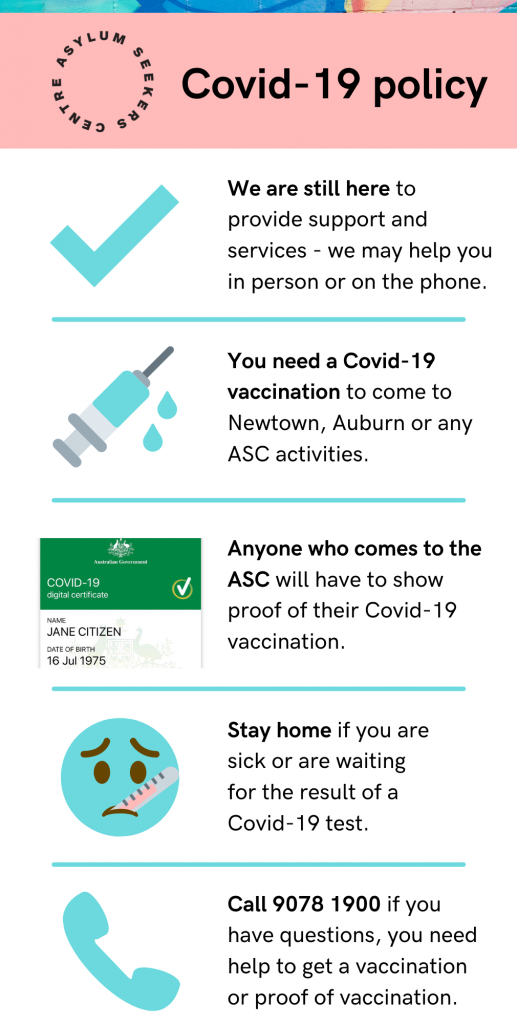 COVID-19 UPDATES
Read the latest on Covid-19 rules and information here.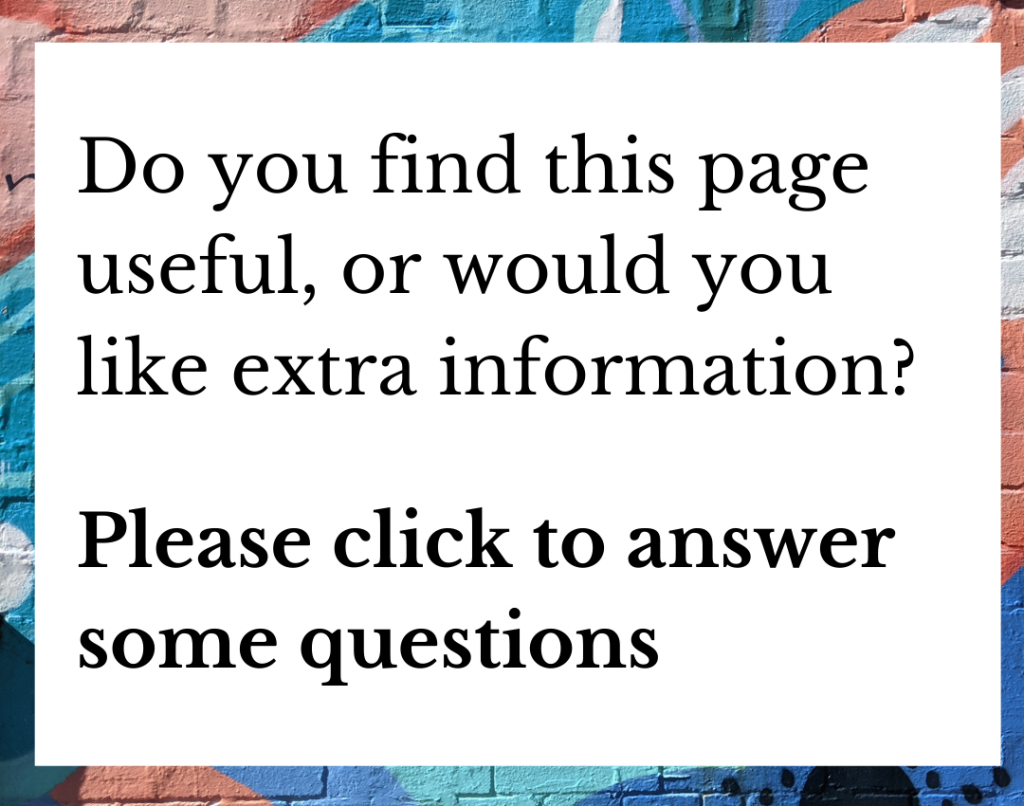 Asylum Seekers Centre events
Auburn Botanic Gardens Visit
Join us to explore the lovely Auburn Botanic Gardens! All are welcome to join this afternoon event.
DATE: Monday 6th December (this is a new date from the previously advertised one)
TIME: 1:30PM
MEETING POINT: Auburn Botanic Gardens (Corner of Chisholm Road and Chiswick Road, Auburn)
TO BOOK: email Romy ce.events@asylumseekerscentre.org.au.
Money
RED CROSS EXTREME HARDSHIP SUPPORT PROGRAM (EHSP)
$$$ available. There is now a deadline to apply. Apply to the Red Cross by Tuesday 30 November. Non visa holders and temporary visa holders can apply. More information here.
GOVERNMENT FINANCIAL HELP FOR PEOPLE SEEKING ASYLUM
There are changes to government payments to help people seeking asylum affected by Covid-19 lockdown. Check our COVID 19 updates page for more information.
TENANCY SUPPORT PROGRAM
The NSW Government is providing a payment of up to $4500 to landlords to support tenants who have been affected by COVID and have difficulty paying rent. More information on the COVID 19 update page here. If you need more information about the program please phone the ASC and ask for an appointment with a centre support volunteer.
TAX TIME RESOURCES
If you did paid work in the financial year 2020-2021 you will need to complete a tax return to declare your income and any tax paid. The Australian Tax Office has resources in different languages to help you here.
HELP WITH ENERGY BILLS
The NSW Government has increased financial assistance to help pay energy bills as part of Energy Accounts Payments Assistance (EAPA). If you already have a hardship plan with your energy provider you can apply for the additional assistance of up to $1600 per year. If you need assistance to apply please phone the Asylum Seekers Centre and ask to speak to a Centre Support Volunteer. Tel: 02 9078 1900
Women
WOMEN'S GROUP
The Asylum Seekers Centre has an online meeting for women every week. All women are welcome. To join this Women's Group, email ce.events@asylumseekerscentre.org.au or call Antionette on 0481 896 675 for more details.
Work and Education
UWS ASYLUM SEEKER SCHOLARSHIPS – APPLY NOW!
The University of Western Sydney (UWS) offers a scholarship for asylum seekers who have been living in Australia for a minimum of twelve months, have not undertaken any previous tertiary education in Australia and are suffering social and financial disadvantage.
Applications are now open.
Applications close on 16 January, 2022
For more information go the University of Western Sydney web page here.
If you need assistance with your application contact the Asylum Seekers Centre by phone 02 90781900.
Or email the university scholarships@westernsydney.edu.au or contact by phone on 02 9852 5501.
PARENTS – IMPORTANT INFORMATION FOR YEAR 12 STUDENTS APPLYING FOR UNIVERSITY
Year 12 students applying for a university course starting in Feb 2022, can apply for an Asylum Seeker/ Humanitarian scholarship. The scholarship covers the FULL cost of their university international student course fees. Parents should make sure that your child applies for the scholarship when they are applying for a place at university. Check which universities offer these scholarships here.
Year 12 students should talk to their school immediately – teachers, careers or transition advisors, English language teachers or whoever is helping students with their university applications.
The school should assist students to apply for both course places and Asylum Seeker/ Humanitarian scholarships before the end of term. For more information click here.
If your school is not able to support you to identify or apply for scholarships, the Asylum Seekers Centre Universities Program may be able to help you. Please email employment@asylumseekerscentre.org.au if you need further assistance.
English language help
NEW ENGLISH CONVERSATION GROUP – AUBURN
New face to face English conversation group at Auburn Centre for Community. The Conversation group is for people with at least intermediate-level English. This is an opportunity to practise English in a relaxed environment and connect with others.
WHEN: Wednesdays 10:30AM-11:30AM
WHERE: Auburn Centre for Community, 44a Macquarie Road Auburn
TO BOOK : Please email ce.events@asylumseekerscentre.org.au.
Sport and art
SWIMMING LESSONS FOR BEGINNERS
Free swimming lessons Monday evenings and Wednesday afternoons. Suitable for beginner swimmers.
WHEN: Mondays 7PM -7:30PM
WHERE: Ian Thorpe Aquatic Centre
WHEN: Wednesdays 2PM-3PM
WHERE: Cook and Phillip Park Pool
For more information and to book, please email ce.events@asylumseekerscentre.org.au.
FREE ONLINE HEALTH AND EXERCISE CLASSES
Reclink
Reclink Australia has free online health and fitness classes every day of the week. Some of the fitness classes inlcude yoga, pilates, exercise and zumba plus chats with sportsmen and sportswomen.
Join all classes here. You will need to use Zoom on your computer.
Check the Reclink Facebook page for classes each day Reclink Facebook page.
For families
HOMEWORK CLUB
Free homework assistance for primary and secondary students in English and Arabic – and other languages by arrangement. Wednesdays 3:30 – 5:30 PM. Provided by Lost in Books in Fairfield, more information is available here. Registrations are essential. Email your interest here.
FREE CASUAL CHILDMINDING FOR REFUGEES AND ASYLUM SEEKERS
Where: 34 North Parade Campsie
When: Mondays 10AM to 2 PM
Bookings essential. Book for 1 hour or 4 hours.
For more information and to register contact Isha on 0420 796 529 or email here.
ACTIVITIES FOR CHILDREN
Free Educational Activities for children at home. Find out more here.
Storytelling and Singing for 0 – 2 year olds. Sydney Library sessions in English, Mandarin and Auslan. Find out more here.