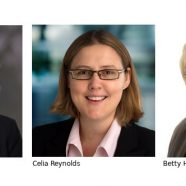 ASC Chair, Betty Hounslow, announces the appointment of Rebecca Lowde and Celia Reynolds to the Board, and thanks them for contributing their excellent skills and experience to progress the work of the Centre and the interests of our clients. 

Rebecca Lowde is currently the CEO of Salmat Limited. She was appointed in June 2017 following three years as the CFO.
Rebecca has an extensive background in managing finance, contracts, strategy, mergers and acquisitions, budgeting and sales, and has a proven track record managing large, multi-cultural teams from around the world including the European and Asia Pacific regions.
Rebecca has more than 25 years of experience in finance and international operations and has held senior executive positions in Australia, Europe and Asia for businesses including Bravura Solutions, Business Objects, Lexmark and Oracle. Rebecca holds a Bachelor of Business in Accounting and Computer Science and is a member of the Australian Institute of Company Directors and CPA Australia.

Celia Reynolds has been with the Lend Lease Group for 18 years in various Finance roles across a number of businesses, including extended secondments in both London and New York.
In her current role as Group Head of Internal Audit she leads an international team across Lend Lease's four main offices globally. From leading investigations to assisting in the implementation of anti-bribery and corruption processes to general operational project reviews, this role has allowed Celia to develop both operational and commercial skills across the property and infrastructure spectrum.
Celia commenced her career within the Lend Lease Building business on the Lend Lease Finance Development Program. She completed a double degree Bachelor of Economics/Bachelor of Commerce at the ANU and later completed her CPA.
Celia currently holds a non-executive director position on the Global Compact Network Australia Ltd of which Lend Lease is a member.