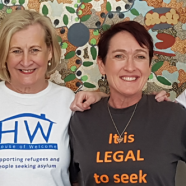 400 people have asked us for urgent protection. The Federal Government has responded with cruelty. Please support this vulnerable group of people seeking safety!
Help the NSW Alliance of People Seeking Asylum provide the housing & life-saving assistance that the government is taking away from them.
ASC are working alongside House of Welcome, Jesuit Refugee Service and Refugee Advice and Casework Service to make sure people seeking asylum are kept safe.
To donate go to chuffed.org/project/compassion-over-cruelty-in-nsw