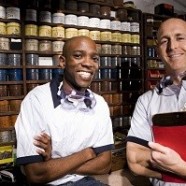 Information for employers
The Asylum Seekers Centre's employment service works in partnership with employers and adult asylum seekers to find full time, part-time, casual and voluntary work in the community. The Service provides a specialised employment matching service to both parties and is completely free of charge.
All of our job seekers have been granted work visas by the government. This means they have full work rights and are legally able to work in Australia. Most asylum seekers do not have access to Centrelink benefits so are very motivated to find work.
The employment service consists of two teams:
Job advisors who work one-on-one with job seekers to assist them in finding work placements. Once a position has been found, job advisors provide ongoing workplace support to both employers and employees. Such support greatly assists in ensuring a high staff retention rate.
Employment relations consultants who liaise with potential employers to understand their organisation and identify relevant job opportunities. These opportunities are then referred to the job advisor team who put forward suitable candidates for the role.
The service runs regular employment training seminars for clients to help prepare them for the job market. Employers are also invited into the centre on a regular basis to talk to both clients and staff about a variety of subjects including what employers expect in the workplace, the hidden job market, etc.
Benefits for employers
Asylum seekers have a strong work ethic and desire to contribute to the community. They have a diverse range of skills and experience from their countries of origin and are highly motivated to find work. Many have fluent English, are very flexible with hours and available to start immediately.
The employment service offers:
a professional job placement service free of charge to both employers and jobseekers.
suitably qualified candidates for full time, part time, contract and casual positions throughout Sydney.
ongoing workplace support for employers and employees once a position has been filled.
relevant working visa checks and tax file numbers for all candidates prior to placement.
the opportunity to enhance the diversity of your workplace whilst providing hope and financial stability to someone in need.
The employment service invests significant resources in each placement to ensure a successful match.
"The Asylum Seekers Centre provided a great and professional solution to our recruiting problem without any cost to the business." Paul Cummins, HR Manager, Telecommunications Industry
Questions frequently asked by employers
Does it cost me anything to use the ASC employment service?
No, our services are offered completely free of charge to both employers and job seekers. No placement fees are charged.
Am I under any obligation to employ a candidate from the ASC employment service?
Employers are under no obligation to employ any of the candidates sent for an interview. We respect that employers are the best judge of who is most suitable for a position and occasionally this may not be one of our candidates.
How long are the work visas valid for?
Our candidates have all been granted bridging visas with work rights. These visas are renewed regularly and remain valid for an average of 18 – 24 months while the government processes their application for refugee status.
Are there any special conditions that I need to be aware of when employing an asylum seeker?
No, asylum seekers should be regarded in the same way as any other employee. They are entitled to the same wage rates and are required to pay taxes and superannuation at the same rate as permanent residents.
How can I find out more about the Asylum Seekers Centre employment service?
Please contact the Asylum Seekers Centre on (02) 9078 1900 if you would like to enquire about the employment service.
We are always willing to meet with potential employers to discuss what we can offer your organisation – at no obligation to you.