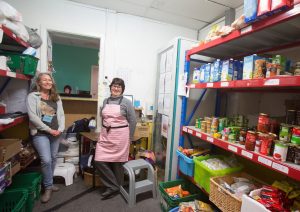 Thank you for planning a donation to the Asylum Seekers Centre foodbank. We are working hard and smart to support people seeking asylum to get through this immediate health crisis.
Each month our foodbank distributes thousands of dollars worth of groceries to people seeking asylum living in the community. Most are donated by generous and thoughtful people like you!
Below is a list of what we use the most.
You can deliver your donation in person to 43 Bedford Street, Newtown at any time from 9am – 4pm, Monday to Friday.
When normal online deliveries are restored, you can also order online from any supermarket and have your order delivered to the ASC at 43 Bedford Street, Newtown. Please then contact us to let us know the delivery window.
Items must be unopened and in-date. Please note that due to limited storage space we are unable to accept donations of clothing, furniture, kitchen utensils, books or toys. If you have any questions or want to donate something not listed, please contact us.
This list is updated regularly – last update: 01/07/2020
Food
Urgently needed:
Breakfast cereal (Cornflakes are popular!) up to 500g packs
Cooking oil (vegetable, 1 litre containers)
Tinned chickpeas and kidney beans
Always needed:
Condiments (honey, jam)
Coffee (instant)
Dried fruit (apricots, prunes, dates)
Dried lentils (red or green)
Long life milk (1 litre containers)
Noodles (instant)
Pasta (spaghetti, penne, spirals etc)
Pasta sauce
Rice (Basmati is the most popular)
Tea (black or green)
Tinned or instant soup
Tinned corn
Tinned fish
Tinned diced tomatoes
Spices (chilli, curry powder, turmeric etc), small packets or bottles
Tinned fruit
Toiletries
Urgently needed:
Deodorant (for men & women)
Shampoo
Toothpaste
Always needed:
Nappies (for 10kg and larger babies only)
Razors
Sanitary pads (no tampons please)
Shaving cream
Shower gel / body wash
Soap
Toothbrushes
Thank you for your support!