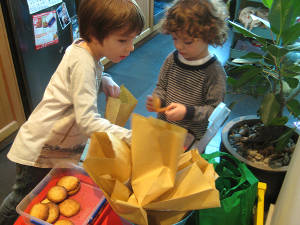 A beautiful story about two friends who hope to instil in their children the values of compassion and empathy through their participation in the Centre's lunch program.
"A couple of weeks ago, my good friend Jacquie, her son Mackenzie, my son Luca and I volunteered to cook a meal for about forty people at the Asylum Seekers Centre. We participated in this program through Kids Giving Back, a wonderful organisation that provides opportunities for children to do volunteer work in the community.
Jacquie and I were initially daunted by the thought of cooking for such a large group, particularly when clients come from so many different countries and some have specific dietary requirements, such as being vegetarian or strictly halal. We were also informed that for many it will be  the only meal they will eat all day. The people we served were from many different parts of the world, and every one of them was gracious and genuinely grateful for the meal we'd prepared. One young woman who had arrived too late for lunch, but for whom Jac packaged up some food to take home, offered her a warm and heartfelt 'God bless you', and another lovely man whom Luca had served came up to us afterwards, thanked us sincerely and gave Luca a gentle kiss on his forehead. It was truly humbling to witness the kindness and appreciation of the people we'd cooked for, and the people we met made a strong impression on all of us.
Jacquie and I felt incredibly proud as we watched our two five year olds helping out on the day. They volunteered to set the tables and laid the cutlery and serviettes out with so much care, though each setting was uniquely different –  but I guess it's the thought that counts!
It's easy to feel helpless in the face of the current political situation regarding asylum seekers and refugees but there are many practical ways that everyday Australians can get involved in helping.  As the government and much of the media dehumanise people seeking asylum, many Australians fail to appreciate that they are people like us, just not as fortunate to have been born into such a lucky country.
The meal we prepared and served was a richly rewarding experience and one which we hope will instil in our children the values we hope they will grow up with – compassion, empathy, gratitude, respect for difference and an understanding of the importance of giving back to the community".
Siobhán Costigan