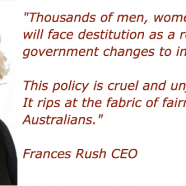 The Department of Home Affairs (DHA) has recently made the decision to cut off financial assistance for many people seeking asylum. This most recent decision follows a series of punitive changes which have already been implemented. Many people who have sent money back to family or who are studying have already been cut off assistance. Other changes will take effect in early June, and by August 2018 around 7,500 people will be without any government financial support.
Who is affected?
The changes, announced just a few weeks ago, affect those with a Bridging Visa and the right to work, who will be expected to find employment urgently and support themselves and their families with no government assistance. From June 4th, single men and women who are assessed as able to work will have ten days to find a job before income support is stopped. By August 2018, family groups will also be included.
Without income it will be extremely difficult for people to pay rent, buy food and medicines, and support their children through school.
ASC strongly condemns this policy
After years of working with people seeking asylum we know that their most urgent goal on arrival is to secure employment. For most, that takes time. Without the time and support that people need, the new policy means many will slip into destitution.
ASC advocates for a human rights-based approach. We believe that people seeking asylum deserve a fair chance of assessment, and to be able to care for their families while awaiting an outcome on their claim for protection.
Practical ways you can help
Voice your protest
ASC is part of a national campaign led by the Refugee Council of Australia (RCOA) to reverse the cuts. You can:
Sign the #ChangeThePolicy petition
Call or write to your MP to discuss these changes and voice your disagreement
Raise awareness with your friends, family, networks and let them know how they can help
Check our Facebook page for updates
Provide employment
One of the most direct ways you can help is through employment. If you are an employer who might be able to help, please contact the Centre's Employment Service:
Email: employment@asylumseekerscentre.org.au
Phone: 02 9078 1900
Donate
Your donation will enable us to continue to provide essential frontline services.
Provide Material Support
Donations of food and laptops have a direct impact on the lives of people seeking asylum, and we always appreciate them.
Frances Rush
CEO, Asylum Seekers Centre