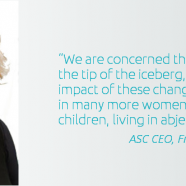 People seeking asylum are reaching out to the Asylum Seekers Centre in Sydney for assistance as a direct result of the Government's decision to reduce support services.
Frances Rush, CEO of the Asylum Seekers Centre, Newtown, said it was unclear why the government has decided to make these changes, however the impacts have been immediate and significant. 
"We are seeing people who have had their income reduced, sometimes to nil, without any notice," she said.
"Just this week we have assisted six families and eight single people who needed financial and accommodation assistance as a direct result of these policy changes. One family's electricity had been turned off and another family with three young children had been served an eviction notice. 
"We are concerned that this is just the tip of the iceberg," said Rush. "The full impact of these changes will result in many more women, men and children, living in abject poverty."
"Like other agencies that support people seeking asylum, year after year we have  seen increased numbers of people in need.  Over 1,000 people came to our centre in 2017 alone.  This brings the total number of people we currently support to well over 2,500 – almost five times the number six years ago.
"Until now, the limited government support that was available while people looked for work at least enabled them to live a very basic existence while their applications for protection were being assessed.  This process can often take many years so they still needed additional assistance in finding accommodation, accessing legal advice, health care services, English lessons and other basic support.  But now, on top of all this, they are often in crisis because they don't even have enough money for their basic necessities. 
"We believe Australians want to see people seeking asylum being treated with basic fairness and provided with respect and dignity, just like other members of our community," Rush added.
"Little imagination is needed to see that these changes by the Government will harm and not help people. 
"We join with our agency partners and supporters in calling for the Government to reverse this cruel and harmful policy."
9 February 2018