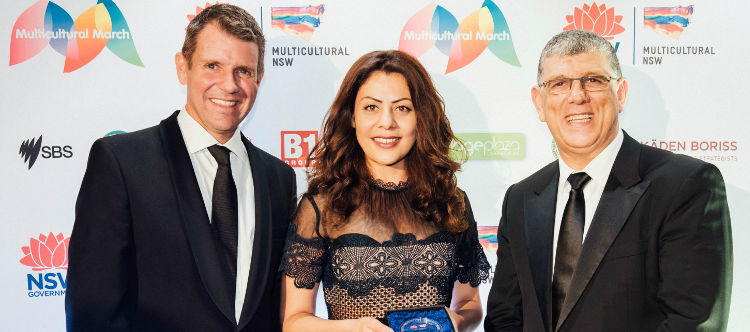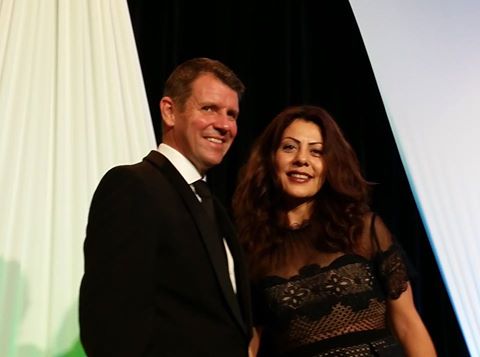 Our Ambassador Saba Vasefi was one of the winners of the NSW Multicultural Community Medal awards, which recognises the contribution of those working in the field of multiculturalism. Saba has been recognised for her contribution to arts and culture.
NSW Premier Mike Baird awarded the medal to Saba in front of more than 1,400 people at the annual event at Rosehill Gardens Racecourse.
The Minister for Multiculturalism, John Ajaka, said that the Premier's Harmony Dinner, now in its fifth year, was "a celebration of cultural diversity – the state's greatest economic and social asset".
Mr Ajaka further said that the Premier's Harmony Dinner is an "opportunity to recognise the exceptional work by community members to promote social harmony and increase our understanding of each other's cultures, traditions and languages" and that "it gives us the chance to demonstrate our unity in diversity and our determination to lead the world in multicultural practice. New South Wales is a place where everyone, from everywhere, can feel at home."
When speaking about Ms Vasefi, John Ajaka commented:
"A colourful history brings Ms Vasefi to the shores of our country, and we celebrate as her contributions are very much for our very own cultural gain. Ms Vasefi isn't afraid of the hard issues, and has initiated a number of debates and discussions which help us better understand the needs of our community."
Saba is a filmmaker and human rights activist who fled Iran when her life was at risk, after she made a documentary about child execution.
Now residing in Sydney, her latest film explores her struggle to reconcile life in Australia.
"After five years living in Australia as a refugee, I still feel I don't belong here somehow," she said in the film.
"My continuing search made me reach out to asylum seekers living in detention and drove me to work for the powerless women and children incarcerated there."
Her future aspirations are to help new arrivals by challenging government policy.
"I think that western governments claim that their policies promote an equal society… however refugees, asylum seekers and refugees in Australia are stigmatised, marginalised, abused and silenced," she said.
"And, their contribution to the public discourse on the issues that affect them is misunderstood and rejected."