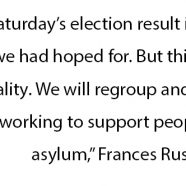 "Saturday's election result is not the one we had hoped for. But this is our new reality. We will regroup and we will keep working to support people seeking asylum" Frances Rush OAM, CEO, Asylum Seekers Centre
Saturday's election final outcome is not the result that many of us had hoped for.
It means that we will need to work harder and more strategically to forge a relationship with the Federal Government.
It means that we, at the Asylum Seekers Centre (ASC), will work even closer with our colleagues at state and national levels to secure a more humane outcome for people seeking asylum. As a combined voice we know that we can, have and will make a difference.
We will remain true to the values we have always based our work on, and ensure that people seeking asylum, be they on Manus, or Nauru, and here in Australia know that there remains hope.
None of us can live well with prolonged uncertainty. To plan and look forward, we all need a minimum of certainty as to what tomorrow holds. This is paramount for people who have already remained in limbo for years, in offshore facilities or here, among us, in the community.
While people wait, we wait in solidarity. We will work with the new Government to obtain the best possible outcomes for people seeking asylum. ASC has advocated consistently for a reintroduction of a living allowance for people seeking asylum as the most basic of entitlements.
Saturday's election result was not the one we hoped for. But people count on us. Today, tomorrow, people and children will reach to us for support while trying to adjust to life in Australia. We will regroup, and we will continue. We will stand by people seeking asylum, as we have done for 26 years