Eight and a half years ago, John Scahill applied for a volunteering position at ASC. He's been coming to the Centre once a week ever since to teach beginner and intermediate English classes to people seeking asylum.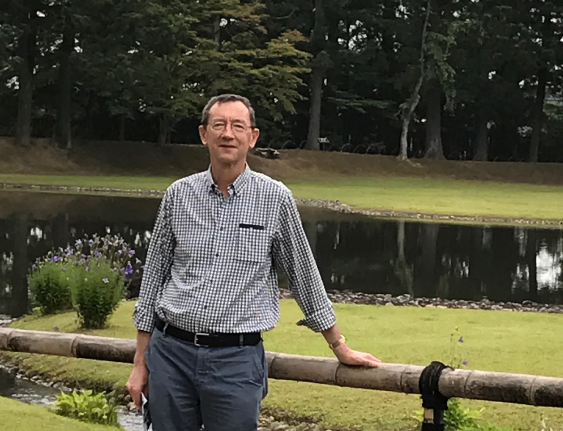 Like many volunteers, John got in touch with the Centre driven by a desire to 'do something' and protest the treatment of people seeking asylum by the Australian Government. He didn't suspect ASC was also going to provide him with one of the most satisfying teaching experiences of his career.
"It's a unique learning environment"
"I have taught English in Australia and overseas for thirty years. I'm now working at Insearch, which prepares overseas students for courses at the University of Technology Sydney. What I'm doing at ASC seems to draw on all my past experiences, but it is a unique learning environment.
"Although classes are divided into two levels, the actual language needs of people can vary hugely every week. And sometimes people are not in a position to attend classes regularly because they need to work or attend appointments.
"I usually prepare a short reading that can be developed into a discussion topic with some vocabulary work, a grammar point with some exercises and a listening practice – then see who appears, and adjust accordingly. Some people are fluent in spoken English but might have limited literacy, some may have little trouble reading English but are still getting used to speaking it, and others might be aiming at advanced qualifications in Australia. And there are some who start with only very elementary English and little or no literacy in their first language – I greatly admire what they and the teachers of the Beginners class achieve!
"Teachers love highly motivated students, and that's certainly who we get in the classroom at ASC"
"Teachers love highly motivated students, and that's certainly who we get in these classes, with added stimulus from the diversity of people's backgrounds. The cheerful, co-operative atmosphere and sense of purpose at the Centre makes it a very special place to work.
"It is a unique experience getting to know the students over a period of months or sometimes years. I see how much they contribute to the classes and support each other, and witness the progress they make, not only in English, but in self confidence. I feel privileged to be able to get to know them this way."