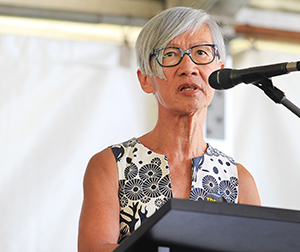 Margaret Tung considers herself a very lucky volunteer: as a job advisor for the Asylum Seekers Centre (ASC), she gets to witness the difference getting the first job makes in people's lives. From helping people to prepare their resumes to getting them ready for job interviews, she has been a constant presence for people going through application processes for the past seven years.

The difference a first job can make
One woman Margaret worked with particularly stuck with her.
"A woman I worked with had been a professional for years back home. She was applying for many jobs here and was getting no result. It was tough on her health and wellbeing. Eventually she secured a position as a kitchen-hand.
"Sometimes it can be really hard for people to realise that the jobs they're offered here have little to do with the career they left behind. This particular woman, however, popped into the office one day, a short while after starting her position as a kitchen hand. She was almost unrecognisable: her face was beaming, she was smiling, she sounded more assured. Finally she was able to support herself and her son and could start building something for both of them. In just a few days her self-confidence had literally blossomed. I will never forget her smile as she walked into the office that day."

"Sometimes you are just a bystander and all you can do is debrief and offer support"
Things aren't always that easy and job advisors have to be ready to deal with difficult situations. Some people can go through rounds of interviews without success. Sometimes, even with a good level of English and impeccable skills, a bridging visa can be a deterrent for potential employers. These are the situations Margaret dreads.
"Sometimes you are just a bystander and all you can do is debrief and offer support."
In these situations, the Centre itself can offer some relief, both for volunteers and for people seeking employment.
"These are the best moments to take a walk through the Centre's main hall at lunchtime. It always smells wonderful and clients are sharing food, the children are screaming and playing and running around. To me, the Centre is this too: a place of joy, where people can also come to have a break from their daily grind and hurdles. It's kind of like a sanctuary."

A firm believer in change coming from the community
Over the past two years, Margaret has also been part of ASC's community speakers program, which engages with the community around people seeking asylum and the work of the Centre. She is a firm believer in change coming from within the community.

"As a community, we will be stronger if we're open to diversity and have a more compassionate and humane policy towards people seeking asylum."
"The teachers are an inspiration: they get the students to think about asylum seekers/refugee issues by inviting us to present. The classrooms I regularly go to are diverse; a lot of the students' parents and grandparents all come from different parts of the world and the children really don't even think about diversity that much. It's a given to them. There's a huge gap between the 'them and us' political discourse and the attitudes I see in classrooms."