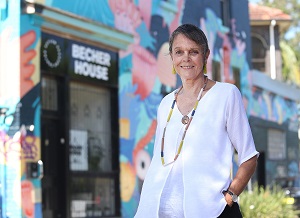 Three years ago, Federal Government policies drove Jude to apply for a job advisor role with the Asylum Seekers Centre (ASC). The Human Rights Commission was about to release its report into the Forgotten Children of Nauru and the political debate had stalled, entirely muzzled by slogans to stop "illegal maritime arrivals" and to "turn back the boats".
Appalled by the Federal Government's treatment of people seeking asylum
"I was appalled by the Federal Government's treatment of people seeking asylum. How disturbing in a nation where nearly half of all Australians come from first or second generation immigration"
"The negative public atmosphere around people seeking asylum had created a culture of misunderstanding and weariness. It prevented potential employers from realising they could get an amazingly resilient, talented and determined group of people as employees."
ASC's Employment service was where Jude wanted to bring her expertise, honed throughout her career in social justice. Jude had set up some of the first gender programs in the UK in local government around women at work. She then spent the last 23 years in Australia working on equity and diversity programs in government and in universities, at UNSW and UTS.

Early on, her main concern was that young people were not getting a proper chance.
"Quite a few of the people I first worked with at ASC were engineers, extremely capable and with a very good command of English. I was concerned that their skills and talent were not recognised and hence not utilised."
Our responsibility as a society

"There are currently over 28 million registered refugees and asylum seekers in the world. Almost half of them are under eighteen. What kind of a world are we building if none of these young people get the education they require? We do have a responsibility as a society."
Jude has been advocating tirelessly so people seeking asylum can secure a place at University. She's worked closely with universities such as UWS, UTS, Macquarie University and more recently Sydney University.

"More universities are now offering scholarships dedicated specifically to students seeking asylum which do not require them to pay full international fees. It is absolutely fabulous that they recognise the potential and the talent of young people seeking asylum. Education is a fantastic social escalator. It will change people's life."

"What's the point of giving people the chance to study if they're not given the chance to succeed?"
However, Jude believes there is still a long way to go if we want students seeking asylum to thrive at University.
Last year, the Federal Government withdrew the modest income support families were getting for children over 18 enrolled in full-time study. Any person over eighteen years of age is now automatically deemed fit to work and, as such, should be working rather than studying.

This means families simply cannot support their children through university at all.

"Some students have had to work two night jobs on top of a full-time university course in order to just survive. What is the point of offering young people a place at university if they cannot eat or sleep properly while studying?"
"If we're completely honest about supporting students seeking asylum, we need to do better at supporting them in their studies. They need support with living expenses, and with guidance on how to study, how to navigate life at university."
Before "her" students go on to study and experience uni life, Jude makes sure she gives them one final piece of advice, probably the most important:"Embrace it all. Go out, introduce yourself, make friends. Open every single door."