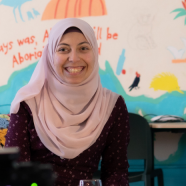 Roaa, a young woman and refugee advocate interviews Yawar, who has been seeking asylum for five years. Yawar* came to Australia as a teenager and lived with his family at Asylum Seekers Centre short-term housing.
Yawar is now is starting to feel a sense of belonging – although he and his family are still waiting for the security of permanent protection visas.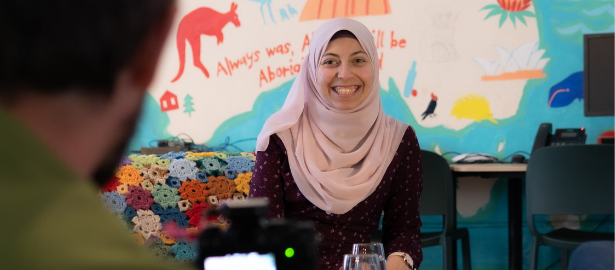 Roaa: Hello! I'm Roaa, I'm 19 years old. I'm doing my HSC this year, and I'm going to university next year. I came to Australia at the end of 2018. I was first on the bridging visa and then I got my protection last year. Can you tell me a bit about yourself? When did you come to Australia?
Yawar: I'm 22, I came to Australia in May 2016. I came here more than five years ago now with my family. I went to the Asylum Seekers Centre, met the people there. It was very difficult. I had no idea what I was getting into. I had no idea how to navigate the whole place.
Roaa: How was your life before, did you learn English? I didn't learn English before I came to Australia, but then when I came, I had to deal with the language.
Yawar: I'm from Nigeria and English is the official language in Nigeria. So I've been learning English forever. When I came here, I had just finished my high school exams, my finals, it's equivalent to the HSC. I couldn't go into uni, I couldn't go into high school. So there was a lot of uncertainty about what to do with me. So I went to Marrickville Intensive English Centre.
Roaa: I went there too… I was doing my year 11 exams for semester one, and then we had to leave. So it was a shock to go to Australia. How did you come to Australia? And who did you come with?
Yawar: I came with my mom and two brothers. The flight was a very weird one because I'd never been on a plane before. I think my mum actually did pretty good, trying to keep everyone calm.

Roaa: Did you feel welcome when you came to Australia? For me, I needed to feel like I belong, because I know that I'm going to live in Australia for the rest of my life. At the beginning of my school life, in Australia, it was very confronting because I had my own culture, my own aspects, my own thinking. And then I'm confronted by another way of thinking of the girls there. And I was like, wait a minute, I need to figure out how I'm going to work through that.
So it was really hard in the beginning… sometimes I'll go back to the Arabic community to like, feel that connection between me and my culture and my language. I feel like Australia is a multicultural country. It gives you that sense that you can keep your culture.
Yawar: It took me a very long time to adjust. I went to TAFE for seven months. I thought perhaps it will help me make some friends, feel comfortable. To be fair, I can't blame TAFE for not doing the job, because I didn't open up… And then I got a job after TAFE and it was the same story. It took me getting to uni to get some sense of belonging. I registered myself for on-campus therapy sessions, it was a six-month program. I was talking to someone to fully transition to being on campus and being a student. I think that really helped me, and since then, I haven't been flying, but I've been flying in some senses.
Going to campus, being a uni student makes me feel welcomed. I don't have to worry about anything, I just go to campus and study, increase my knowledge, every now and then hang out with my friend. I go to Macquarie, it's a very big campus.
Roaa: I've been accepted into Macquarie, in the Leaders and Achievers early entry scheme. I'm planning to study media and psychology.
Yawar: I think you'll enjoy Macquarie, it's a very big university and it's very multicultural and there's so much stuff to do.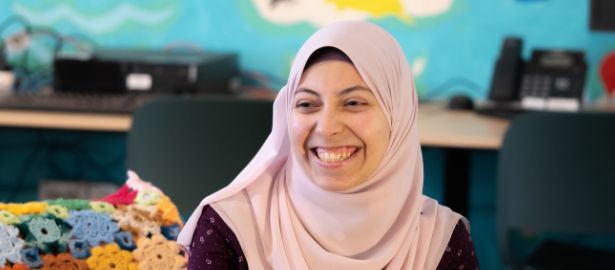 Roaa: What do you wish people in Sydney knew about refugees and people seeking asylum?
Yawar: I think you have to see everyone as human, and understand they're refugees for a reason, they wouldn't leave their country if they don't have to, and they're just looking for some place to feel secure and safe. If you try to understand that, I think the best thing you can do is just to accept them and make them feel some sort of welcome.
Sometimes the best thing you can do is just to be there for them. And don't ask too many questions (about being a refugee). If they feel like talking about it, they will come to you. You can just be there for them and support them and provide them some sense of belonging. They will appreciate it, as I appreciated it, and I still appreciate it.
Roaa: We all do. As refugees we appreciate everyone who helped us, who gave us support, who welcomed us. We want to give it back to the refugees who are coming in and help them as we got help too. What are you doing now? And what are your plans for the future?
Yawar: I will be starting my final four exams in November, and I should be able to graduate by January. I'm currently on a scholarship at Macquarie. I would like to do my Masters in chemistry. I can't afford it at the moment, so the best thing for me to do is to look for a job and work in the chemistry environment. My plan is to finish uni and do the things I've always wanted to do, feel part of a team, make some chemicals.
Roaa: I wish you the best of luck for everything you want to do in the future.
Yawar: Thank you so much Roaa.