Sylvia Hale
"I support the Asylum Seekers Centre because the Australian people, via their taxes, have assisted me at every stage of my life – public school education, scholarship to university, grants to the printing and publishing industries and payment of my salary as an elected member of parliament. In all conscience, when the opportunity presented itself, I could not refuse to return a modicum of what I had received. Whose needs could be greater than those of asylum seekers who risk everything to flee persecution and seek safe haven in a land whose customs and languages may be so different from their own?
If the international conventions Australia signs up to are to mean anything, they must be observed in deeds as well as words."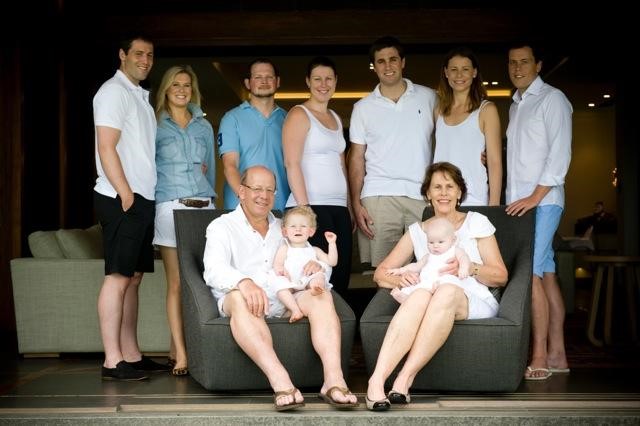 The Mattick Family
Peter and Pam Mattick with their family
"We found out about the Asylum Seekers Centre through through Monsignor Tony Doherty of St Mary Magdalene Catholic Church, Rose Bay. He told us about the amazing team at the Centre and the work being done to assist asylum seekers. We felt we definitely had the opportunity to be involved in something great.
We are so blessed to be Australian and our family has had opportunities and a life so full. We can't imagine the courage and strength of people fleeing their homeland. As Australians we must welcome and support asylum seekers. Peter and I receive so much more in return than we give as supporters and volunteers."
Mary MacKillop Foundation
Helen Connealy
"The Mary MacKillop Foundation provides relief from poverty, sickness, suffering and helplessness.  We assist self-help projects in the Australian community, whilst building self-reliance and human dignity. In particular we help those at highest risk in society, those who are isolated and marginalised.
The Asylum Seekers Centre is a vital contributor to our community by providing such support through shelter and guidance for those who are new to our country and have no support. For those who have chronic illness, they are often debilitated and very ill by the time they seek help. The Foundation is proud to help provide pharmaceutical assistance to those in such need and highly values the wonderful partnership with the Asylum Seekers Centre.
Sister Mary MacKillop responded to the needs of her time in ways that respected the human dignity of all. The Foundation, in memory of our namesake, supports today's needs which include those who have arrived in this country with no support. The tragedy of fleeing your home and often having to leave family behind can leave many without hope and we aim to give solace and empowerment."
Sisters of Charity Foundation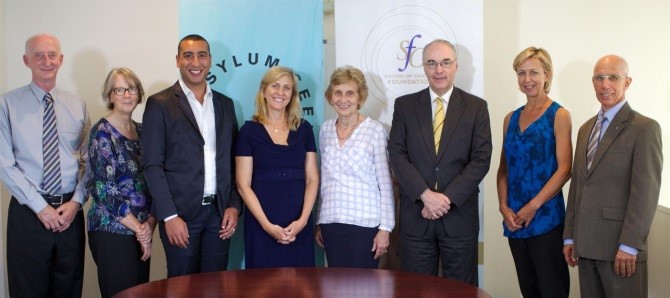 Representatives from the Asylum Seekers Centre and Sisters of Charity Foundation celebrate the signing of the agreement, November 2013.
We are proud to be the beneficiary of the Sisters of Charity Foundation's 175th anniversary project. The Sisters of Charity have a long history of supporting the most marginalised and vulnerable in Australian society since settlement. They continued this tradition by recognising that asylum seekers are the most vulnerable of the homeless and purchasing an accommodation centre for our clients. Homelessness is the most critical issue for asylum seekers and over half of our clients are homeless and have no financial support from the Government when they first arrive. Access to decent housing is fundamental to helping people recover from their past experiences and rebuild their lives to become valuable members of our community. We are extremely grateful for this milestone gift and proud to be working together with the Sisters of Charity.
Bridge for Asylum Seekers Foundation
Bridge for Asylum Seekers Foundation (BASF) supports the Asylum Seekers Centre because it is the first point of call for most asylum seekers in need.
The Centre provides a full-range of front-line services that a home-based volunteer organisation such as BASF cannot provide. It also provides excellent case management services, meeting clients on a regular basis and identifying to BASF those in financial need.  In recent times, the relationship has become closer and more effective with the Centre's case management services managing the BASF payments to approved clients.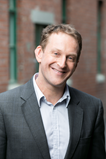 The Myer Foundation
Leonard Vary, CEO, The Myer Foundation and Sidney Myer Fund
"People who have come to Australia seeking refuge from war, violence or persecution in their home countries and whose claims for refugee protection are in train – asylum seekers – are among the most vulnerable and marginalised in our community. With their everyday existence subject to the vicissitudes of government policy which determine what, if any, government assistance they are able to receive, whether or not they may work, and where in the end they may be settled, it is increasingly important that organisations such as the Asylum Seekers Centre are given the means to support them on the long and uncertain journey through Australia's protection system. It has been inspiring for the Sidney Myer Fund to witness and contribute to the Centre's growing capacity as the primary provider of support to those living in the community in NSW while their claims are processed."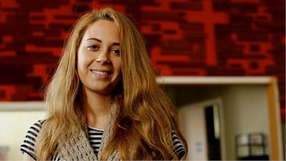 Simple Love
Founder of Simple Love, Coco Knight
In 2013, a group of young people, led by Coco Knight, decided to create an innovative solution to address the food and nutritional needs of asylum seekers. They created a campaign entitled 'Simple Love' which saw different churches come together to provide food hampers in the lead-up to Christmas. Their project led to 12 Sydney churches across five denominations donating 1,400 bags of food. Through the creation of this simple giving campaign and managing the collection and delivery of goods, 'Simple Love' helped us meet the nutritional needs of our clients. The project was such a success that it has been expanded into regular and ongoing food donations.
Gelato Messina
Simon Ravindran, Project Manager, Gelato Messina
"This unique partnership affords us access to an amazing set of potential candidates instilled with the right work ethic and a clear determination to lift themselves up!
We are excited to be a part of something that meets our operational needs while providing us with the opportunity to be more socially active in our community!"
Hitoshi Sataka, Volunteer Dentist
"I support the Asylum Seekers Centre because it provides a great environment for the clients. It's welcoming, fun and I believe it is really making a difference in people's lives. The staff and volunteers are great and ultimately, that's what counts in a support service. There's always a bit of banter going around, but under those smiles and laughter, I can sense the determined steely-eyed focus on the need to change the way asylum seekers and refugees are treated. I had a dental practice near the Centre's old home in Surry Hills. If memory serves me right, I simply had a gap in my appointment book one day, and thought I'd give them a call to see if anyone would like to come in for pro-bono work. The rest is history. I've always been passionate about human rights issues. I haven't had any major incidents or events to trigger such interest, but I don't think you need one to realise we all want to be treated with dignity and respect. When I hear stories and compare it to what I'm privileged to have, it puts me in my place."