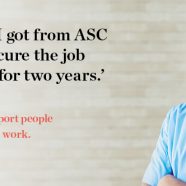 Employment changes lives – nothing gives people back their independence and dignity like working 

to support themselves and their family.
For many families seeking asylum, employment is the only source of income while they await the outcome of their application for protection in Australia. It is an uncertain and unsettling process, which can take years.
Currently the Government is withdrawing assistance for people seeking asylum at a rate not seen since we opened our doors more than 20 years ago. Never before has the need for employment been greater.
Our Employment Service is the most established service of its kind in NSW. We have effective, sustainable relationships with employers, training providers and community sector partners that help us foster long-term employment success.


Our staff and volunteers are working every day with people who are trying to survive with no income at all. We work alongside people to map successful career paths and develop the skills and knowledge they need to find work – English language classes, resumes and cover letters, interview coaching, work readiness workshops, vocational training, links to job networks and post-employment support.
500+ People Seeking Work
People seeking asylum want to be financially independent. Finding work is their number one priority. They are equipped with varied skills, aspirations and experiences. Our Employment Service has assisted hundreds of people find meaningful jobs.
Local vocational training creates new opportunities for people whose qualifications are not recognised. We work with TAFE, community colleges and private training providers to help people access certificates and courses that make them more employable. We also help individuals plan their path to vocational study and help them navigate entry into training institutions.

40 Volunteer Job Advisors
Our job advisors work directly with job candidates in weekly one-on-one sessions. These highly skilled volunteers bring extensive professional experience to their coaching roles. Our job advisors act as professional mentors, building candidates' confidence and capability to help them seek work independently. We match the best advisor for each person based on work, experience and skills.
People looking for work develop a real partnership with their advisor. Together, they explore career goals and channels of opportunity, including certifications and training, volunteering, job networks and connections with our partner employers.
90+ Partner Employers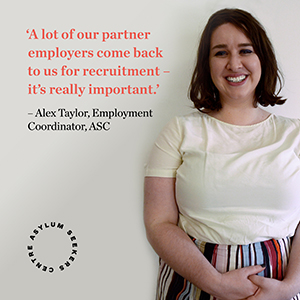 Our 90+ partner employers, who share their job vacancies with us, come from more than 20 industry sectors. They recognise the value that people seeking asylum bring to their organisations. They include LUSH Fresh Handmade Cosmetics, Transdev, St Vincent's Private Hospital, Gelato Messina, Michael Page and Scalabrini Village nursing homes.
"We are looking for productive team members to become part of the LUSH community, and that is exactly what we have found through ASC. We've had many success stories with people being promoted to leadership positions and starting new careers with us."
Zani Walker, People Support Coordinator, LUSH Handmade Cosmetics
We're keen to continue to develop our network of employers, especially in industries aligned with the people we support. These include administration, customer service, hospitality, childcare, engineering, factories and warehousing, commercial cleaning, IT and retail.
Please donate today to help people seeking asylum in their ambition to find employment, enrol in training to gain local qualifications, improve their English language, and access financial assistance, health and other social support.
Click here for further information about our employment service.
THANK YOU.