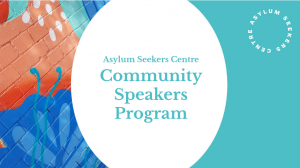 Through our Community Speakers Program we hope to inspire and inform the wider community about people seeking asylum. It has been developed in response to ongoing community organisation, school and group requests to learn more about how they can become involved and provide support.  It is available free of charge in the Sydney metropolitan area.
Book a Community Speaker
Seeking asylum is a human right. The Asylum Seekers Centre aims to protect these rights and provide a welcoming and supportive environment for people seeking asylum. But we cannot do this alone. With the support of the community we can continue to assist the growing number of people who need our help. Together we can celebrate the valuable contributions that people seeking asylum bring, and as a community, we can help them rebuild their lives.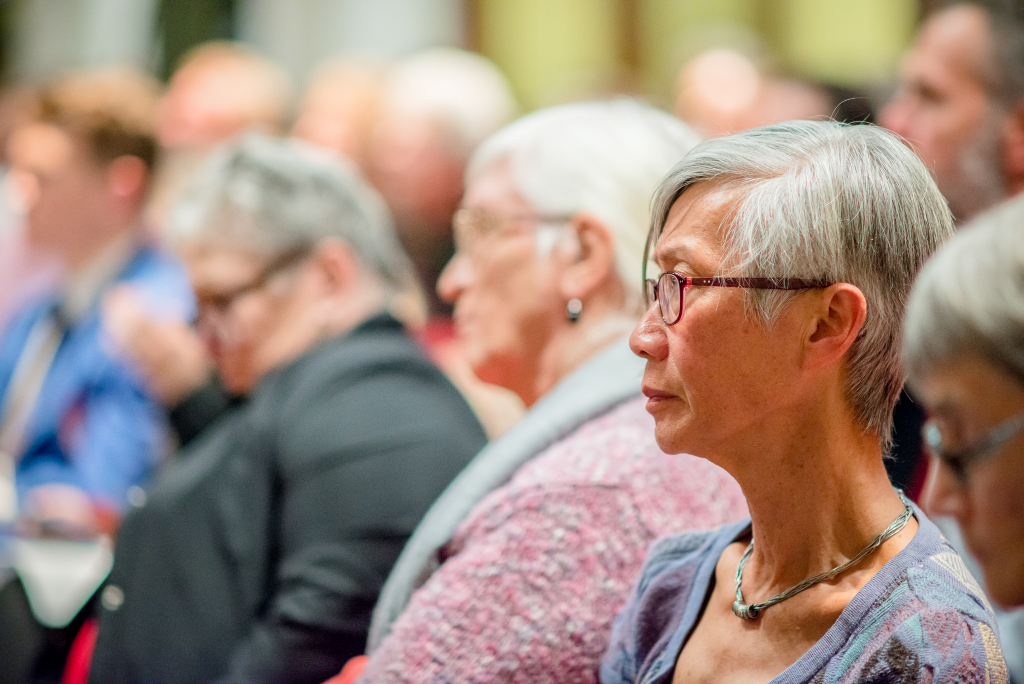 ---
Why the need?
There is a real need to build greater community awareness and understanding of the brave and courageous people who have fled war, violence or persecution in their home country and are seeking asylum in Australia. From conversations with community groups and individuals we have learnt that many people:
Are concerned about the unfair treatment of people seeking asylum.
Would like to have a better understanding of why people seeking asylum flee their countries, the process of seeking asylum and the personal challenges they face while they wait for their applications to be assessed.
Would like to better understand how the Asylum Seekers Centre supports people seeking asylum living in the community.
Would like to know how they can provide support.
How will the Community Speakers Program help to increase community awareness and support of people seeking asylum?
Access to factual information is a fundamental element of a harmonious community. By delivering community presentations we hope to open the eyes of the community to the many ways that people seeking asylum and refugees contribute to Australia's diverse and multicultural community.
Our presentations aim to:
Inform the community of the key facts and issues that are so often missing or misrepresented in the public debate.
Increase community awareness and understanding of people seeking asylum, who they are, why they flee their home countries and the challenges they face whilst seeking asylum.
Challenge negative perceptions and myths and encourage people to think about social justice issues and Australia's humanitarian obligations towards people seeking asylum.
Promote positive perceptions of the valuable contribution that people seeking asylum bring to the Australian community.
Enhance community understanding of the Centre's role in helping people seeking asylum living in NSW.
Provide information and advice on how community groups and individuals can support people seeking asylum whilst they rebuild their lives.
Who are our community speakers?
We have a network of community speakers who come from a wide range of professional backgrounds. They have been specially recruited to talk to the community about people seeking asylum and the work of the Centre.
Our presentations
Our presentations are free and suitable for a wide variety of audiences such as:
Community groups and clubs
Churches and other religious groups
Schools and higher education organisations:

We have specially designed presentations for four band levels of school students
If requested, these can also include an interactive component – 'Walk in my Shoes'
Each level is supported by Activity ideas
A handout on 'How Can You Help?' is also available for how students and schools can support people seeking asylum in fun and creative ways.
Presentations are typically 30 minutes in duration, which includes time for a Q&A but can be tailored to meet the specific needs of your audience.
How to book a Community Speaker
We recommend booking a speaker at least one month prior to your event. Book a speaker here.
Our program runs across the Sydney metropolitan area only.
How can I find out more?
To find out more about the ASC Community Speakers Program please send us an an email to csp@asylumseekerscentre.org.au
Find out more about other ways that you can support the work of the Asylum Seekers Centre.
Like us on Facebook for up to date news posts, ASC and other community activities.
Our Community Speakers Program is supported by the City of Sydney and the Pratt Foundation.